PAY IT FORWARD – Deborah Bostock-Kelley
PAY IT FORWARD –
Deborah Bostock-Kelley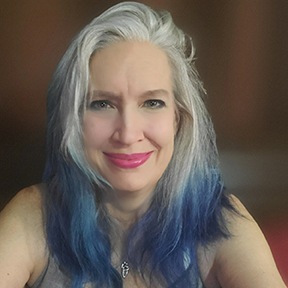 In addition to writing for Positive Impact, Deborah is a theatre reviewer for Broadway World, Creative Loafing Magazine, Groove Magazine, and Patch, a reporter for Tampa Bay News and Lifestyles Magazine and Laker Lutz News, and past newspaper journalist for The Tampa Tribune with 20+ years in journalism and business copywriting. She is a twice-published author of a children's early reader, The Alien and Me and Damaged Goods: Narrative Unendings from Inside My Heart and Mind. Deborah is also a multi-time playwright for Carrollwood Players Theatre, Powerstories Theatre, Tarpon Arts, and Tampa Bay Theatre Festival, and the scriptwriter for The Actor's Clinic actor's TV show.
Deborah was a 2019 recipient for Tampa Bay Theatre Festival inaugural Denise Deneen award for her work in theatre and 2017 Recipient of Theatre Tampa Bay's Jeff Norton Dream Grant to produce and direct her original production with another educator, A Necessary Conversation at Straz Center for the Performing Arts' TECO Theatre in January 2018. With a talkback with leaders in the community after the two-show performance, all ticket sales were donated to Moms Demand Action, Tampa. A Necessary Conversation won Broadway World's 2018 "Best Actor" and "Best Actress" Awards, winning over all community and professional theatre productions in Tampa. An expanded version was written following the Parkland shooting, and it will be performed during Powerstories Theatre's virtual Shevolution Festival in May. In summer 2019, she reached out to the community for true stories about breasts. She wrote Breast Advice, a show that workshopped to a standing-room-only audience in December 2019 and was called The Vagina Monologues for boobs. A portion of ticket sales was donated to The Affirmations Project that works with breast cancer and domestic abuse survivors. The full production was submitted to the 2020 Tampa Bay Theatre Festival, but postponed due to the pandemic.
In case that's not enough, since February 2005, Deborah Kelley has owned and operated the perpetually five-star-rated The WriteOne Creative Services. The business is an independent copywriting service and comprehensive graphic and web design and web maintenance business that offers the talent and design/print capabilities of an agency, without the overhead expense.
Having never needed to advertise in 15 years, Deborah's clients come from word-of-mouth referrals. Many of Deborah's current customers have been with her since the formation of her company. With over 1000 satisfied clients and growing exponentially, Deborah takes pride in providing fast and efficient, one-on-one customer support. Clients work directly with her and are not outsourced to other representatives. Typically meetings are in-person; however, due to Coronavirus meetings have been brought virtually to Zoom.
As an invisible illness warrior, she recently launched a tee-shirt line called Chronically.Positively.Fabulous with custom tee shirts for chronic illness survivors.
Deborah does also part-time marketing and PR for Powerstories Theatre, NOHO Junction, and graphic design for American Stage. Since 2014, Life Amplified, a variety showcase for grassroots charities and the philanthropic side of Deborah's company is celebrating its 16th show and sixth year in 2020. Deb and Life Amplified have been honored by Bay News 9 Everyday Hero February 2016 and Fox13 Hometown Heroes May 2014. With 100% venue donation and talented volunteer performers, Life Amplified has helped fundraise and raise awareness about human trafficking, PSTD, military sexual trauma, bullying, to sexual violence prevention, and LGBTQ issues.
Deborah is about paying it forward – whether for her customers, her theatre patrons, or the many charities she supports and never gives less than 110%.
Contact Deborah at debkelley@thewriteonecs.com.
Posts