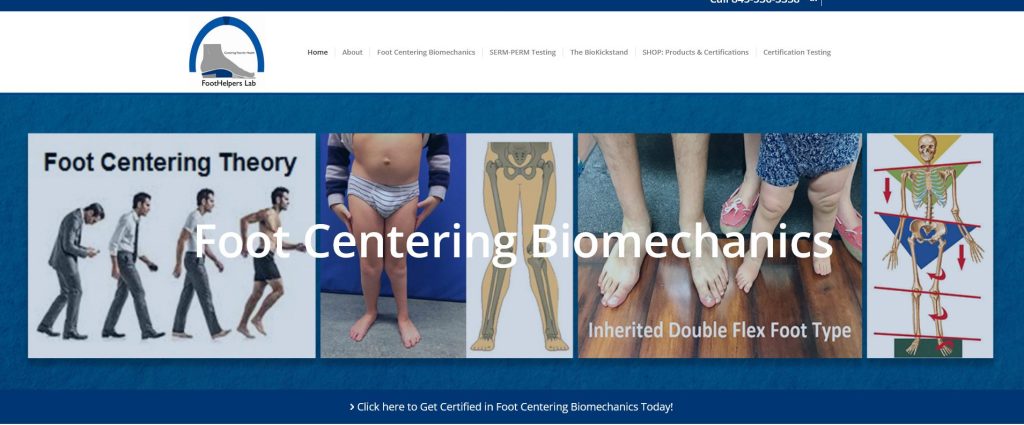 Healthcare professionals of all kinds can embark on a transformative journey that promises to reshape patient care regarding human movement and biomechanics as you know it.
The Foot Centering Biomechanics (FCB) Certification Program by FootHelpers.com is now available to physical therapists, chiropractors, athletic trainers and coaches, podiatrists, orthopedic surgeons, and researchers that will position you at the forefront of this evidence-based approach to biomechanics.
The FCB Certification Program teaches healthcare professionals how to identify and correct postural imbalances that can lead to pain, injuries, and poor performance from the ground up, starting with the feet. FCB is an evidence-based approach to biomechanics that focuses on optimizing the patients' stability, support, strength, symmetry, and balance utilizing proprietary tools and training.
This program transcends traditional education, empowering you, for the first time, to control the diagnosis and treatment of the root cause of your patient's complaints. The program is cost-effective and comes with the mentoring of our expert staff.
"The FCB Certification Program is a call to action," Dr. Dennis Shavelson, founder of FootHelpers.com, emphasizes. "This program replaces your current biomechanics by offering a comprehensive, evidence-based approach to biomechanics. Best of all, FCB will enable you to practice with less interference of insurance and the government and does not require a medical degree."
The FCB Certification Program is delivered entirely online and consists of four modules:
Introduction to Foot Biomechanics
Functional Foot Typing
SERM-PERM Joint Examination
Clinical Presentation of Your Custom Plan of Care
The program includes a final exam that can be taken four times without additional fees and your connection to a like-minded group of professional colleagues for cross-referral and a discussion of complex cases.
More than a certification, the FCB Program represents a paradigm shift in biomechanics. Elevate your practice, stand alongside distinguished healthcare professionals, and lead the charge toward a future of exceptional patient care.
Visit www.foothelpers.com for more insight on how simple it will be with our mentoring and guidance for you to become a pioneer in the Foot Centering Biomechanics revolution.
About FootHelpers.com
FootHelpers.com is a leading online education provider for healthcare professionals and human movement specialists. The company offers courses on various topics, including foot biomechanics, sports medicine, and injury reduction and prevention. FootHelpers.com is committed to providing healthcare professionals with the knowledge and tools they need to provide their patients with the best possible care.
About Dr. Dennis Shavelson
Dr. Dennis Shavelson is a renowned biomechanics, human movement, and sports medicine expert. He is the founder of FootHelpers.com and the author of many additions to the biomechanics and human movement literature you can reference when marketing and lecturing yourself. He frequently speaks at international conferences and seminars on pedal and postural biomechanics. He has improved thousands of functional lives and consulted with professional sports teams and athletes.
For media inquiries, please contact:
Dr. Dennis Shavelson
drshavelson@gmail.com