The Crest of Third Wave of Feminism (2015): Happy International Women's Day!
@SunetraSenior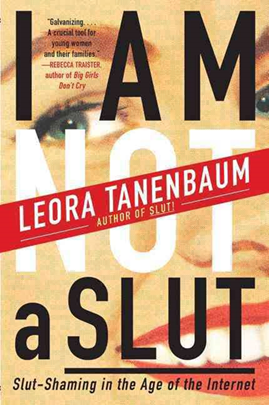 In the style of a modern-day Suffragette, Leora's activism can be found in high-profile publications such as The Nation and The Huffington Post and the central offices of Planned Parenthood where she has been their Senior Writer and Editor. Clearly very prolific, what strikes us most about the author is her authentic educative fervour. Leora's longer works are together an accessible feminist manifesto of the 21st Century. These include newer release, I am Not A Slut: Slut-shaming in the Age of the Internet (2015) and earlier book, Catfight: Women and Competition (2002). The writing is a comprehensive, intimate analysis of specifically the sexual double standard as it exists today. The texts delve into real-life case studies of different women across the grand intersectional experience of class and race. Furthermore, Leora refers to popular culture alongside her academic critique to make a contemporary summary of complex gender politics enlighteningly easy: stirring even. Finally, as we spoke to her about her landmark work, it became clear that emotional courage – a concept that is ironically often dismissed as airy fairy or clichéd – is the timeless bedrock of women's freedom. Leora inspires as she informs. She not only alerts us to a current sexism that still lurks within the societal shadows, but also reminds us of the equal power of the self in fighting back to effectively dispel it.
Weeds beneath the Surface: Tanenbaum is a pro-activist: for her, the root of the issue at once clears the way to the answer. The first and second waves of feminism may have granted women a number of legislative political victories, including the fundamental right of women to vote and the various domestic and professional protections that grew from this, but there is an outstanding battle yet to be won on the social front. In I Am Not A Slut Leora speaks to a diversity of women to compile an extensive collection of personal interviews which pinpoint the antiquated dichotomy of Madonna/Whore as the ongoing source of modern prejudice.
This fragmented twisted identity of woman meant she had to stay a virgin until her wedding day when being a good wife and mother then became the next order. Alternatively, she might be shamefully relegated to her sexuality if she defied this, effectually banished to the streets as 'spoiled' or branded a 'lowly' prostitute. Leora emphasised to Positive Impact Magazine how this ideology continues to manifest: "when a woman hooks up with different partners she is seen as violating the unspoken rule that chasing a husband is one of the most important things a woman can and should do; feminine norms lay an important part of the foundation of the culture of slut-shaming." It is then a subtler psychological pressure in the form of public judgement, including demeaning name-calling and widespread bias, that is the face of millennial sexism. Although a step up from the extreme boundaries that physically kept women confined to the home in former years, it is not quite the soaring freedom we had in mind for a new epoch. Women are still compelled to subserviently conform.
Leora's findings are confirmed by leading sociologists whose insights are also featured in her research. Indeed, if women were truly free as the author pointed out, why are they questioned for behaving or dressing too 'provocatively' in cases of rape and sexual assault? Additionally, why do some men feel so entitled to cross women's individual boundaries in the first place? In short, young women continue to feel themselves diminished – broken even – for the sake of men being affirmed as invincibly whole. Obliged to walk that fine sexual line between alluring and experienced, and not acting on that promise too openly, a new generation internalises the authoritative reductive male dictate. Indeed, outside of Leora's work, there are accounts of men finding female sexual fantasises intimidating as well as generally fearing their total socio-economic freedom. In extreme cases of masculine insecurity, this has resulted in angry, controlling and even abusive or violent behaviour. Unfiltered female sexuality, or raw independence, tends to be viewed as freakish while women who are too reserved are often dismissed as boring or 'annoyingly just a tease.' Here, David Robert Mitchell's brilliant neo-noir film, Under the Silver Lake (2018), parodically captures the persistent male anxiety. In it, the visibly nervous male protagonist, played by Andrew Garfield, tellingly forever chases a woman who never returns his affection. In one scene, he is shown hallucinating that a group of vibrant party-going women are a pack of menacing dogs. There is also the overarching spectre of a haunting naked lady walking around town at night without a face.
Along with the increasing contemporary autonomy of women then, there is also a demonstrative backlash. As a corollary to this, Leora's earlier release, Catfight, alsoshows how endemic dated discrimination has a malevolent mirror in the workplace. The 'prude/slut' divide is reflected in the 'maternal/bitch' binary when a woman strives for vocational success outside of the traditional domain of the house. A woman can do well, but again, there is a 'right' respectable way to go about it. She is pressured to be softly spoken and cautious even as she asserts herself lest she come across hostile or too cold. In fact, Leora cited that at least half of the women who were asked about pursuing promotions at a conference on leadership said "it just wouldn't feel right". They felt bound to stay under the radar or be labelled a 'power-bitch.' Time and time again, there was the bizarre expectation that women should play down their equal status, undermining that very right. In short, they could never purely command i.e., be essentially male. This is not helped by the fact that the highest paid positions of influence are still comprised predominantly of men and we have yet to close the ongoing gender pay gap. Despite the gaining of female liberty, the enjoyment is systemically undercut.
Although women's bodies are not as heavily regulated in private, the social hangover of inner submissiveness generally remains. Tragically, such enduring suffocating femininity pollutes interactions between fellow women too. Continuing to feel unconsciously pitted against one another for the ultimate approval of men, Leora reports unnecessary personal competition arising between women, especially when in the space of the professional psyche. She states instances of "petty acts of sabotage", passive-aggressive dynamics and bitterness should one woman get a promotion or seek additional support over another. Suffering a potentially unrelievable internalised assault on confidence, women can, unsurprisingly, take it out on themselves. This not only strains but also breaks many women's friendships: a paradoxically restrictive existence creating volatile emotional tension. There is collective reinforcement of the toxic masculine gaze.
A Rising Emotional Current: So, what is the solution to the huge Feminist question: how do we achieve fully-fledged independence while patriarchy pervades? Well, say Leora's works – and with Freud made easy along with some great film references, they really do speak to you – if the issue is that women do not yet own their social identities, we need a mindful cognitive override. The revolution is in grass-roots of the consciousness: growing a fresh and healthy attitude in the place of what is old and browning. Primarily, if women can understand their meekness to be learned, they can take the particular step to actively transform into unapologetically contented beings. The mental energy spent on second-guessing oneself or regulating others can be converted into a celebratory solidarity of unique choices we've been brave enough to make. There should be pride in place of self-doubt and overall encouragement of those women closest instead of policing: "think outside the mind-set," Leora told the magazine, "make the effort to bond with other women. Build awareness within your peer group or community."
Indeed, respect each other's expertise – don't deny a friend's strength. Recognise the value of sisterhood – don't fetishize individualism. Take the time to clearly communicate – don't defensively repress. ACTIVELY SUPPORT one another instead of silently contending.  It is possible to dissolve the double-standard into a universal movement of emancipation. Indeed, this would organically challenge men who socially exploit the misogynist norm to make them confront it and change while making allies in men who are happily sympathetic, rightly welcoming them into the communal fold. Leora stated, "conversation is important, but so is activism. Speak up about the importance of affordable birth control and safe, legal abortion to show that there is nothing wrong with being sexually active." This advice extends to the office! Wear that bright lipstick if you want to, and vocalise your occupational aims: that desire for a raise or to take on a new responsibility; speaking up in meetings and be pleased with significant achievements not matter how small. Also, importantly, talk sensitively with other women about particular issues as well as honestly building each other up, understanding that you are on the same powerful team. Pick dialogue over silence; realise love instead of resentment. Thus, as Leora elucidates, the height of the third wave of feminism is in the honouring of the first two! Women are formally respected as free so we simply need to start acting like it! 
If more individuals knowingly promote this transcendent ethos, we would affect a democratic Feminist force that dispelled the murky sexist bias once and for all, bolstering current law in favour of gender equality too. Leora gave the example of the film Obvious Child (2014), which features "a young bawdy comedian" commanding her wit, speech and sexuality: a statement Leora stresses to be especially important at the time of all-encompassing social media which accentuates any socio-political practice: "although the main character and her friends live and breathe four-letter words, there is one they never mention: Slut." So, we may arrive full-circle at the defiant conviction of our 20th Century sisters; saluting their determined energy and doing justice to the rights for which they fought. Up-to-date and compelling, Leora's books are a colourful crash-course in everyday Feminism. Not only do they buoyantly deconstruct a harmful habitual legacy, but further serve as a motivational handbook that stirs hope within the moment.
T: @LeoraTanenbaum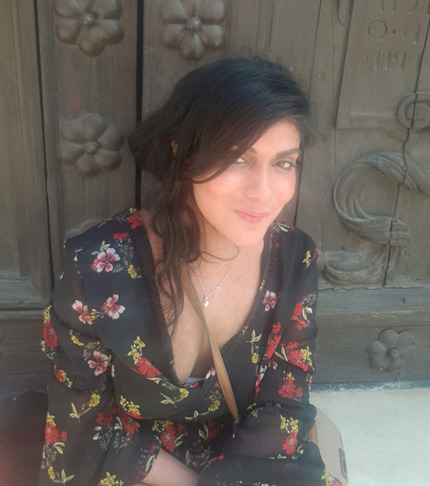 Sunetra (Sunny) is an indie journalist, actress and short film writer. She is a popular columnist at a London weekly, and writes extensively on social democracy, Feminism and the psychological nuances of modern society. Her movies have been screened at the London Short Film Festival (LSFF) and Bristol Independent Short Film Festivals (BISFF).
Her progressive, perceptive writing cuts across film, current analysis and media. Known for its unerring emotional intelligence, the work focuses on the socio-politically urgent yet unseen. She enjoys combining arts, news and mindfulness to create a unique perspective, championing social change. In 2019, she was published in Oxford University's journal, PHENOTYPE, investigating the relationship between apex dinosaurs and modern economy!
Sunetra specialises in the area of psycho-social evolution. To this end, her Sunshine Reviewing column salutes film, television and media that radiate a uniquely joyful message. Enjoy!
T: @SunetraSenior